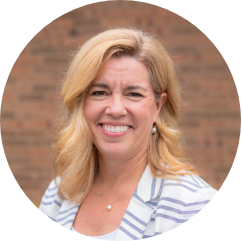 Stephanie
Wellman Costa, MD
I was a curious child, observant of people and the world in which I lived. I enjoyed exploring the trees, streams and fields on the eighty acres on which I grew up north of Defiance, Ohio. My love of learning and this curiosity led me to pursue a career in medicine, the human body being the perfect example of nature's most amazing creation. Completing a degree in biology at Bowling Green State University deepened my interest in living systems, and medical school at Ohio State certainly provided ample opportunity to continue to learn. While working at a migrant farm worker's clinic in Okanogan, Washington I cared for many pregnant women and was able to participate when the women delivered their babies. This was my first exposure to continuity in a doctor patient relationship, and I yearned to have a career where I could impact others so deeply. I understood that this would also be an opportunity to be deeply impacted by my work. My interest in Obstetrics and Gynecology was sparked and later work in the inner city obstetric clinics with the Columbus Health Department solidified my career path. I then completed residency in OB/Gyn at OSU and have enjoyed private practice since 1998.
Having practiced medicine for over twenty years, I have seen firsthand how the evolution of medicine has impacted physicians, healthcare workers and patients. The ever-growing demands on physicians continue to escalate, making their lives and careers increasingly challenging so that even the most resilient physicians can get frustrated with the practice of medicine and can sometimes struggle. I experienced my own difficult struggles for several years, and at a time when I was trying to be a busy physician and mother to two young children, I lost sight of who I was and what was important to me. I remember feeling very isolated, afraid to ask for help or to admit that I was overwhelmed. As a physician, I was expected to be strong, energetic, and always giving to others, even to my own detriment.
At some point I had an awakening and realized that I needed to acknowledge my humanness and vulnerability. I confessed to my partners what was happening in my life, and they were of course encouraging in my requests to focus on myself and family. Over the next several years I began a journey of healing, self-discovery, and personal growth. I realized that because of the personal loss I went through, I was emerging from it wiser, stronger and more in touch with my purpose and passion. I didn't realize it at the time, but I was slowly gaining a skill set so that I could be a source of support and resource for others in healthcare. Over several years, I sought out training to improve not only my leadership ability, but also effective communication skills. I received training to become an executive/leadership coach through the Hudson Institute and have worked to cultivate leaders in my community, especially in women and younger people in healthcare. I completed the robust Physicians Leadership Academy of the Columbus Medical Association and have acquired many methods for tackling complex problems, transformative change, system strategies, and Art of Hosting Conversations that Matter. Because I care deeply for physicians, I have a special interest in helping my physician peers and colleagues attain wellbeing and fulfillment in all aspects of their lives, and to remind them of the desire that prompted all of us to seek careers in medicine.
I am chair of the Wellness Committee for the United States Women's Healthcare Alliance, and facilitate workshops for member physicians at their biannual meetings. I serve as co-chair of the Public Policy Committee of the Columbus Medical Association, and chair the Physician Relations and Wellness Committee for MaternOhio Clinical Associates. I have served as Chair of the Department of Obstetrics and Gynecology for OhioHealth Riverside Methodist Hospital and acted as an advocate for physicians on the Medical Peer Review Committee. I currently serve on the Medical Executive Committee as an At Large Representative for the medical staff at Riverside Hospital.
One of the ways I continue to cultivate personal growth and awareness is by spending prolonged periods of time hiking in nature. Challenging myself physically and connecting with nature reminds me that I am part of a larger whole, and prompts me to think about how I want to belong in that whole.
I founded WHOL in order to connect with individuals and the systems in which they live and work. I long to work with them to facilitate leadership development, communications strategies, and overall deep satisfaction and meaning in their personal lives and vocations.
Start being the best you.